With the popularity of the internet and smart phones, it's not surprising many West Virginians search for information about Social Security Disability lawyers on the internet. That's fine. Obviously, I want you to find this article on the internet. However, you have to be extremely careful about what you're getting when you find firms on the internet.
---
The problem is there are many organizations advertising on the internet for Social Security Disability clients.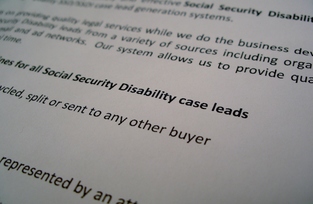 Frankly, I don't really know what to even call many of these organizations. For the purpose of this article, I'm going to call them "companies." The majority of these companies are NOT law firms. That's right. The Social Security Administration allows non-lawyers to advertise and represent claimants. 20 C.F.R. §404.1705(b). (I'm going to talk more about these non-lawyer representatives in a future article.)
---
Here's the dirty secret about these national companies:
Many of them are nothing more than a slick website and a call center. I call these companies "Lead Generators." Here's how it works.
These companies create very sophisticated websites that provide a great deal of information about Social Security Disability claims.
When you search for information on Google or Yahoo, these websites pop up at the top of the list.
Some companies even pay Google to make these websites display at the top of the search results.
So you click on one of these search results and see a very impressive website. You decide to call the number listed or fill in a Free Case Evaluation form. Once you give your information, you then become a product the Lead Generator can sell. That's right. The Lead Generator company has no intention of representing you. You're no longer a person. You're now a lead. You and your case are then sold to other companies across the country willing to pay the Lead Generator for your information. The companies buying the leads may or may not be actual law firms.
---
Are you having a hard time believing this?
I'm contacted by Lead Generators just about every month. They offer to sell me (for a fee) names and information of Social Security Disability claimants who have contacted them. I have steadfastly refused to do this. Why?
I think this is a terrible way to do business and not the way you treat people.
My clients are not numbers to be sold to some unknown firm for a fee.
My clients are people.
My clients are my friends and neighbors.
We shop in the same stores. We see each other at the same ballgames. My clients are real people who are hurt, sick and unable to work. When you can't work and don't know how you're going to pay the bills, you expect to be treated with the highest level of professionalism. You expect to receive the highest level of legal representation. You don't expect to be called a "Lead." You don't expect to be sold.
There is no problem with companies advertising on the internet. I do it myself. Just be careful!
---
Don't be fooled by fancy websites.
There is a very easy way to sort through these companies you find on the internet. If you contact a company you find on the internet, ask these two questions right from the start:
Can you tell me the name of the lawyer right now who will represent me if my claim requires a hearing?
Can you tell me that lawyer's address and phone number right now?
Ask these two questions. The key here is to insist on this information RIGHT NOW. What you will most often find is that the company you are speaking with will not be able to answer either of these questions because they don't know the answer. The reason they don't know is because your case hasn't yet been sold.
---
Travis Miller Attorney at Law
I hope this information is helpful. More importantly, I hope it helps you make a more informed decision when you are searching for or hiring a Social Security Disability lawyer on the internet in West Virginia.
Please remember: Just because you read this article doesn't mean I represent you in your case. If you have any questions, leave me a comment below or give me a call. I'm happy to answer any questions you may have.